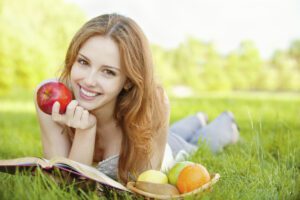 With so much of the marketing around Invisalign being centered on teens, it's not surprising that many adults have dismissed it as a viable solution. And, of course, you don't want to deal with the inconvenience and social stigma of metal brackets on your teeth, so I guess there's nothing to do but live with your crooked teeth, right? Not so fast.
Despite what you may see in the ads, people of any age can benefit from Invisalign. Though not everyone may be a good candidate for the treatment, the only person who can determine whether it's right for you is a qualified Invisalign dentist. Monrovia residents have trusted Dr. Q Dental for Invisalign treatment for years and we'd love to do the same for you. First, though, let us give you a little more information about Invisalign.
How Does Invisalign Work?
The basic idea with braces is to slowly move crooked or misaligned teeth back into place by applying constant pressure. Metal braces are very effective at this because they're attached to your teeth. Of course, not all of us are thrilled with this idea, which is why Invisalign is such a great option.
Invisalign works with the same premise as braces but instead uses custom-made, clear, plastic aligners to apply pressure. The retainers are worn daily, and every 2 weeks, patients exchange them for new ones that continue moving teeth in the right direction.
Benefits of Invisalign Over Braces
Unlike traditional metal braces, Invisalign retainers:
Are nearly invisible in your mouth
Won't collect food particles in the brackets or have restrictions on what you can eat
Allow for unhindered brushing and flossing
Shouldn't irritate your gums and cheeks
Can easily be removed for meals and special occasions
Many adults have lived with crooked teeth because of the numerous complications of metal braces, but with Invisalign, now you can have the perfect smile you've always wanted without interrupting normal life.
If you're looking for an advanced Invisalign dentist, Monrovia's Dr. Q Dental is the right place for you. Call us today at 626.599.9818 to schedule an appointment or learn more about what Invisalign can do for you.