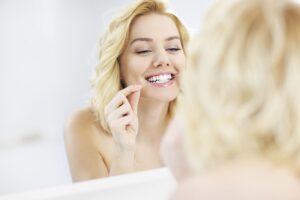 Your Monrovia dentist has already told you countless times that you are supposed to floss your teeth once a day. But, do you know how to properly floss your teeth? Are you doing it right? Read on for tips on how to floss your teeth so that you remove as much harmful plaque and food debris as possible.
When Should I Floss My Teeth?
You can choose to floss your teeth in the morning or evening – whichever works best for you and your schedule. But did you know that you should floss before you brush? Dentists like Dr. Q recommend flossing before you brush so that more fluoride from your fluoride toothpaste will stay in between your teeth, fighting tooth decay and keeping your teeth strong and healthy.
Which Type of Floss Should I Use?
There are several types of floss options on the market, and you can ask your Monrovia dentist which option is best for you. Some people prefer pre-threaded flossers, which come in a plastic case and have a small amount of floss at the top, usually in a triangular shape. Others prefer traditional floss. If you use traditional floss, you will have two options to choose from: nylon, or multifilament floss, which is made up of several pieces of nylon fabric, is stringy and frequently breaks, and comes in a waxed or unwaxed version; or PTFE, or monofilament floss, which is made up of a single thread and can fit in between the tightest places.
How Do I Use Traditional Floss?
If you decide to use traditional floss, you such break off an 18" to 24" piece of floss, and wrap it around your middle fingers, leaving about 3" to 4" of floss exposed. Then, pinch the floss with both of your index fingers and thumbs. Typically, thumbs are more helpful at flossing upper teeth, while index fingers are more helpful at flossing lower teeth.
What's the Proper Method of Flossing?
Whether you are using traditional floss or pre-threaded floss, gently move the floss into the middle of your teeth, to the gum line. Use a "C" motion to floss in between and in front of the teeth to reach the inter-proximal region that is between your two teeth, which is a common place for plaque build up. Make sure that you floss between every tooth, and even behind the last 4 teeth in your mouth, which can still store plaque build up.
Can I Still Floss if I Have Braces?
Many people think they cannot floss their teeth if they have braces. But as Monrovia dentist Dr. Q will tell you, this is simply not the case. In fact, it's more important than ever to floss your teeth if you have braces because braces can trap food debris and plaque, causing tooth decay. If you have braces, follow these steps to floss:
Use waxed floss, which is less likely to get caught and shred in your braces.
Thread your floss carefully between the main wire of the braces before you thread the floss between your two teeth.
Work gently, so that you do not snap the floss between your teeth or shred the floss.
When wearing braces, expect to spend up to 3 times more than the normal time taking care of tooth brushing and flossing.
Can I Get a Demo to Learn How to Floss Better?
If you still have questions about flossing, then ask Monrovia dentist Dr. Q for a demonstration at your next dentist appointment. And if it's time to come in for you 6-month check up, call Monrovia dentist Dr. Q today at (626) 599- 9819 to schedule an appointment.