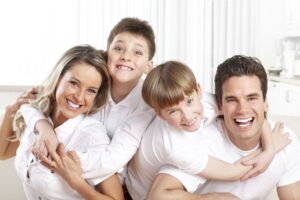 What age do children need to be visiting the dentist is a question many have asked, but rarely get a good answer. As children grow up there have long been very specific dates and ages for everything from immunizations to physicals and more. There have not been these same direct answers for when to take them to the dentist.Monrovia pediatric dentist, Dr. Q, is committed to caring for the entire family and making sure children have the dental care, early cavity detection and treatment they need to have excellent oral health. This early introduction can set the standard for their personal dental care for years to come. It lays the groundwork for children to feel comfortable around the dentist and enjoy their visits to the office.
Development:
Children can begin to get teeth just a few months after birth. Babies have a very limited diet so keeping teeth clean and healthy is easier. It is when children develop a more adult like diet that parents need to be more diligent. Regular teeth brushing and monitoring sugar intake is important. Not only can this keep cavities away, but also creates healthy eating and oral health patterns for the future
Children And Healthy Dental Habits
It is important to create a healthy relationship between our children and our dental care providers as early as possible. This can include talking about how exciting it is to see the dentist or how good it feels for the dentist or hygienist to clean your teeth with their "tickle brush". Monrovia dentist, Dr. Q, wants to help you begin a healthy interest in oral health for your child.
Children are ready to see a dentist at different ages, but it is important that by the time they are about three years old they have met the dentist and had a pleasant initial experience. They can begin having their teeth cleaned and regular examinations done during this time. Early detection of jaw formation, cavities, speech patterns and more can be found and treated appropriately when the child is young, allowing for a healthy future.
Early Dental Care Timeline:
Babies
– Gums can be rinsed clean with a warm washcloth
Young children
– Begin brushing teeth as early as possible with a very soft toothbrush that will be provided by your Monrovia dentist, Dr. Q
– Begin discussion about the dentist and introduce your child to your dentist as a friend and helper
– By the age of three, begin having your child see the dentist for regular teeth cleanings and oral examinations
Continue these habits through your children's young and adolescent life and they will likely carry them into adulthood and share them with their own children. Remember, dental health plays an important role in whole body health and will be a long term benefit that your family will thank you for.
Monrovia dentist, Dr. Q is looking forward to meeting and caring for your entire family. Please call (626) 599-9819 for an appointment to begin a great partnership in you and your child's future.