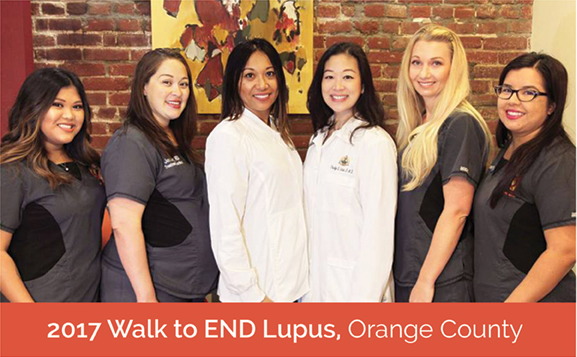 We will be joining the Lupus Foundation of America's 2017 Walk to End Lupus on 6/3! For those of you that don't know, lupus is a chronic autoimmune disease that can damage any part of the body (skin, joints, and/or organs). In lupus, something goes wrong with the immune system, which is the part of the body that fights off viruses, bacteria, and germs ("foreign invaders," like the flu). Learn more about lupus here.
Why it matters to us
"For those that don't know my story, I was diagnosed with lupus in 2004. It's been an interesting lifestyle ever since that discovery and although I have a lot to be grateful for, it's had its moments of "why me"? I would love to support this organization and it's people that are trying to find a cure to end lupus. Many have made my quality of life better through their support and that includes my family and friends and drs and auxiliaries in the field. I thank God everyday for them. This is my first lupus walk and I'm anxious and excited. Please support me today!!" – Dr. Q
How you can help
We are currently accepting donations and looking for team members to walk with us for this amazing cause!
Please click here to donate and/or register for the 2017 Walk to End Lupus on our Team Page.
Date:
Saturday, June 3rd 2017
Time:
Check-in: 7:30 AM
Ceremony: 8:30 AM
Walk: 9:00 AM
Location:
Great Park, C Street, Irvine, CA 92618 (Directions)